For Advertising Agencies and Affiliates
Are you an affiliate or advertising agency looking for a comprehensive platform to create and launch your marketing campaigns? MobiBox Tracking and Attribution is what you need. Our platform offers a comprehensive advertising solution that allows you to easily launch and manage your campaigns. With access to our extensive selection of offers in our vast marketplace and easy-to-use tools, you can quickly and effectively build Smart-Link campaigns using built-in Google ads accounts with a credit line, or by integrating your own social media ad accounts. Our customizable dashboards also ensure you have the analytics and insights you need to optimize your campaigns and achieve your business goals.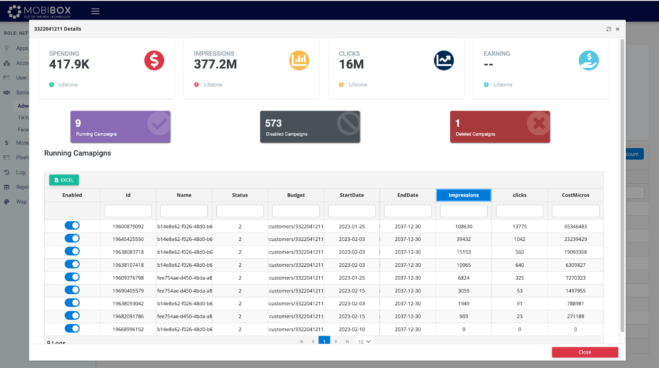 How Do Advertising Agencies and Affiliates Benefit from our Tracking and Attribution Component?
Multi-Channel Advertising
All the necessary tools and resources you need to succeed in advertising across multiple channels are at your fingertips. With built-in accounts and credit lines, you can easily launch and manage Google Ads campaigns. Our platform also supports advertising on popular social media platforms like Facebook and TikTok.
S2S PostBack
MobiBox uses the Pixel API to notify you of conversions resulting from the campaigns you have launched. By leveraging this information, you can accurately attribute installations to specific campaigns, optimize those campaigns, and ultimately maximize ROI.
MobiBox Vast Marketplace
With MobiBox's vast marketplace combining services from different verticals, advertise the content providers' services to target audiences with ease.
Attribution Tool
MobiBox's platform provides this tool to attribute conversions to specific marketing campaigns and channels, providing a complete view of the customer journey and enabling you to optimize your marketing efforts accordingly.
Smart-Link Campaigns
Access MobiBox Marketplace offers to create and launch marketing Smart-Link campaigns directly on MobiBox. This innovative solution provides a simple and intuitive way to reach the target audience and drive conversions.
Efficient Performance Models
At MobiBox, we understand the importance of achieving your KPIs while maximizing your advertising spend. That's why our platform offers efficient performance models like CPA (cost-per-action) and CPI (cost-per-install) to help you reach your target audience and drive conversions.
Have Questions about MobiBox?
Power Up Your Profitability: Get to Know Our Smart Tools


Streamline Your Business with Our All-in-One Solution: Monetizing, Hosting, Payment Management, Advertising, and Real-Time Insights.